Click on the pictures to see a larger version. Disclaimer: I'm sure you have noticed the scratches and the algae. This is a secondhand aquarium, and all of these pictures are taken very near the substrate surface, where I don't scrape algae to avoid further scratching the glass. There. I said it.
1. A pair of assassin snails mating.
2. An assassin snail and a trumpet snail together. Lunch?
3. A juvenile assassin snail, greatly enlarged. (Actual size about 1/4 inch.)
4. An assassin snail attacking a trumpet snail.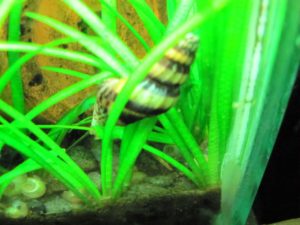 Here are some links for additional information:
http://www.plantedtank.net/forums/shrimp-other-invertebrates/85765-assassin-snails-eat-live-shrimp.html
http://www.bluecrayfish.com/forum/viewtopic.php?f=12&t=2261
http://www.aquaticcommunity.com/aquariumforum/showthread.php?t=29339